Whether you're trying to save money or you're in the middle of a global pandemic, these are some great cheap stay at home date ideas. From fun and silly (and sexy) things like body paint ideas, these stay at home date ideas will spark love and bring your closer.
Stay At Home Date Ideas (Cheap Date Nights) 🔥
Even back in the day when my husband and I were on a tight budget and drowning in babies, we still prioritized Friday night Date night. My reasoning: date night is cheaper than therapy–and a whole lot more fun (I'm not discounting therapy–it can be a lifesaver). We didn't always have the money/energy to go out every Friday, so we often alternated between going out and having a stay-at-home date night. Now that we're in the middle of a pandemic, these at-home date night ideas are worth their weight in gold.
(the random thing from this article I'm ranking on Google for–welcome body paint, people!) 😃🎨
Benefits of a Stay-Home Date Night
SAVE MONEY on babysitting and restaurant costs with these cheap date nights.
RECONNECT with these creative and new ideas. New date nights break up the monotony and keep the romance alive.
#1 Tip:
TAKE TURNS planning date night.
Sometimes planning and anticipating a great date night for your partner
is as fun and bonding as the date itself.
 ~ Date Night Ideas for ROMANCE and RECONNECTING ~ 
Life stresses can strain even the best of relationships. These date night ideas will help you reconnect and spark love and romance.
1. Spark CONVERSATION with get-to-know-you questions
Think you already know everything about your partner? Get to know your partner (and yourself!) better by asking insightful questions. Not sure what questions help do this?
2. At-Home SPA NIGHT
Skip the expensive spa treatment and create your own spa at home.
Here's how to set the mood:
Set up a "massage station" on your bed and take turns giving your best massage.
3. Eat Take-out by CANDLELIGHT
Take it from the most successful restaurant owners: Ambience is EVERYTHING.
No matter how many times you've had take-out at home, you'll be surprised how much it changes the mood when you:
Light candles
Put on your romantic playlist of choice
Use a Meal Kit
If you haven't tried Blue Apron, it's a great way to cook an amazing meal at home.
4. Take a PERSONALITY TEST
Get to know yourself and your partner better with some insightful personality tests.
Put on your favorite music to make it more fun and interesting

Get in touch with your younger selves by putting on a nostalgic playlist–find a playlist from a decade you grew up during with songs you used to rock out to as a kid/teenager.

Try one of these personality tests recommended by James Clear, creator of Atomic Habits
 ~ Get CREATIVE and CRAFTY ~ 
Creativity reduces anxiety, depression, and stress (source). Once you and your partner unwind with one of these artsy activities, you'll be more primed for love, connection, and romance.
5. FACE / BODY PAINTING IDEAS
Roll your eyes, but we all know how
relaxing it is to have someone run a brush across your face. Plus, a face or body painting night is sure to bring out the giggles.
Body Paint Ideas
Here are some Body Paint Ideas for the more adventurous:
6. DECORATE your own MUGS with MARKERS
You don't have to be an artist to enjoy a fun mug-decorating night. My husband and I did this years ago when he still thought it was hilarious to write "poop" at the bottom of a mug to give people a smile when the finished off their hot chocolate or coffee. We still laugh about it and, unfortunately, we might still have that mug lying around somewhere.
Step 3: Bake for 1 hour to help your designs last
7. Hit up BROADWAY–Virtually
Grab and drink and settle down for a Broadway show at-home together. Plus, no need to rush to get in the intermission bathroom line.
Disney+

Hamilton
Newsies the Broadway Musical
Sound of MUsic
Annie
Sister Act 1 and 2 (not technically Broadway, but still quality)
Broadway HD

For the hard-core Broadway fun, this monthly or yearly subscription offers the most extensive list of broadway hits.
Kinky Boots
Miss Saigon
Kiss me, Kate
Phantom of the Opera
Jekyll and Hyde
8. Spectacular MOVIE NIGHT
We all enjoy a good "Netflix and chill" night, but make this movie night special:
Use a PROJECTOR on a wall or even in your backyard for a fun theater-like experience.
Prep with popcorn and snacks (or making some specialty popcorn together–my personal favorite is cinnamon bun popcorn)
Put phones on their charges so you're hands-free for cuddling
9. Adult COLORING BOOK
You don't know relaxing this is until you try it. Or re-live elementary school and turn it into a coloring contest and let your kids vote the next day. The winner gets a back/foot massage.
 ~ Get MOVING and GROOVING ~ 
Moving your body reduces stress and benefits your brain in so many ways. Your relationship with your partner will benefit from your happier, more relaxed brain.
10. DANCE PARTY or Get FANCY with a stay-at-home PROM NIGHT
Even if your partner doesn't dance, they'll enjoy the chance to get close to you with a crazy fun dance party or a get-fancy prom night.
For a fun and romantic PROM NIGHT: Get dressed up in your fanciest outfits and queue up a romantic playlist or queue up the replay of Some Good News' Prom with John Krasinski.
11. Have a KARAOKE Night
Whether you're tone-deaf or the next American Idol, everyone have fun singing their favorite songs.
Look up your favorite songs' karaoke version or use a karaoke playlist from YouTube.
Or use the free version of Smule app to add some studio magic to your voice and even record and re-listen to your performances.
12. BACKYARD GAMES
Channel your inner child and use whatever backyard toys you have.
Some ideas:
Use whatever backyard toys you have: (e.g. Jump on a trampoline, play basketball.)
Play cornhole, croquet, or bocce ball.
 ~ GAME NIGHT Date Ideas ~ 
Whether you're naturally drawn to games, these fun takes on traditional game night will spark both fun and love in your relationship.
13. Jigsaw PUZZLE NIGHT
You don't even know how nice and relaxing a puzzle night is until you try it.
Get a jigsaw puzzle out of the back of your closet, buy one from the dollar store, or get one from Amazon.
Turn on music or a show in the background.
Puzzle away!
14. Organize a hilarious VIRTUAL GROUP GAME NIGHT with other couples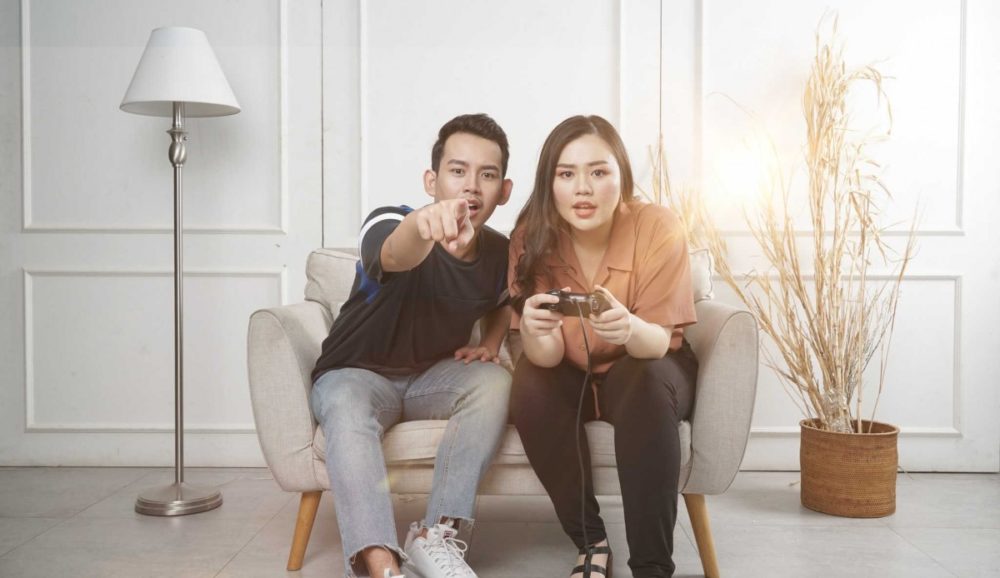 15. VIDEO GAMES–with a twist
When you can't beat 'em, join 'em. Break out the game console and maybe work in some fun/sexy incentives for who wins each round of Mario Kart.
 ~ DELICIOUS Date Nights for FOODIES ~ 
Fill your soul and your stomachs with these fun and tasty date night ideas.

16. Have a 5-ingredient FOOD COMPETITION
Pick 5 ingredients from your kitchen and see who can make the tastiest combinations. This will either be really fun or (if you have my subpar cooking skills) really hilarious.
17. British BAKING SHOW Competition
For those of you who are also obsessed with the Great British Baking Show are familiar with the format:
Pick a category (e.g. pies, pastries, cakes, scones, etc.)
Pick a great recipe (check out the amazing recipes from my friend Amy Nash at House of Nash Eats)
Bake away!
Judge based on texture, appearance ( you know Mary Berry loves nice sheen), and–above all–TASTE!
18. Make A MULTI-COURSE DINNER TOGETHER
Feed the kids an early easy dinner (e.g. quesadillas and mac and cheese), enjoy spreading out the night with extra courses, such as appetizers. One of our favorite app by Mix up dinner with extra courses and appetizers (bruschetta recipe).
When we did this, we made the appetizer, put the kids to bed, then finished up with the main course and dessert.
19. Have a FONDUE NIGHT
Love and cheese and chocolate? Me too! Pick one or both and enjoy a fun fondue night!
Cheese fondue recipe (serve with veggies, bread, and anything else you can find)
Chocolate fondue recipe (serve with fruit, cheesecake bites, etc.)
20. S'mores dessert
If you have a little firepit (Home Depot has them), making smores is the perfect backyard date night
If not, make s'mores inside your home! You can (carefully):
Valentine's Gift Guide
By the way, if you're looking for a last-minute gift idea, check out this Valentine's Day gift guide from Amazon:
SAVE TO PINTEREST:
Let me know how these fun and romantic at-home date night ideas turn out! And please tag @MoneyFitMoms in your pics so I can see them!
By the way, here's a fun article about the types of dating.
  Do YOU have any fun date night ideas? Message me on 
Instagram
, 
Facebook
 or 
Pinterest!
If you have any
body paint ideas
, please send me them! I'd love to add them to this article.
Join the FREE Money Fit Challenge!
While you're here, did you know you're more likely to accomplish financial goals if you have a supportive community and step-by-step instructions? Get both from Money Fit Moms!
(1) First, join the supportive @MoneyFitMoms community (Instagram, Facebook and Pinterest.)
(2) Then, get FREE step-by-step instructions and tools to accomplish all the Top 10 Money Fit Moves. (e.g. budgeting, pay off debt, investing, retirement, create a will)